I am not too proud to admit that one of my favorite parts of a wedding is the dessert! I look forward to the dessert at every wedding I have the pleasure of attending! Whether serving cakes or cupcakes or setting out a dessert bar with delectable sugary foods, I am almost always thrilled with the choices. The most playful twist to a wedding's dessert option that I've experienced is doughnuts– yes, doughnuts! They couple creatively decorated a pegboard with the saying, "A Hole Lot of Fun," with a multitude of different flavored donuts hanging from each peg. It was memorable and most definitely delicious!
When it comes to wedding desserts, is one option better than the other? Should you pick a traditional cake, charming cupcakes, take an entirely different approach with doughnuts, or offer a delicious dessert bar? And the answer is … it depends on you. Sorry, that is a vague answer, but here are a few things to think about regarding each option. Ultimately, remember that when it comes to sugar and sweets, everyone is usually satisfied. I know I am!
Bridal Guide provides numerous facts on the topic of desserts. Wedding cakes cost nearly $3-4 per piece; therefore, for a 150-guest wedding, cakes typically start at $450. Cakes offer a traditional dessert for your wedding and allow you to design a piece of art to match your theme. To cut costs on your cake, here are a few tips: go square with your cake rather than round, stick with standard flavors instead of unusual flavors, pick buttercream frosting in place of fondant, and instead of sugar-paste flowers, decorate your cake with fresh flowers or berries.
Cupcakes, pies, or even doughnuts also provide delicious options for your wedding. Cupcakes come in roughly around the same price as a wedding cake, costing $2-3 each. A helpful tip I have read regarding cupcakes is to cut the amount of frosting on each cupcake in half so that they are not too messy for your guests.
Pies are also a new trend. By choosing in-season fruit pies, costs can come in at nearly 15 percent less than traditional cakes. One wedding I attended had all of the bride's aunts bake and bring two of their favorite pies. They were delicious. I think Aunt Dixie's was my favorite; her pumpkin pie was incredible!
Now back to doughnuts! Doughnuts are labeled the 'new cupcakes.' They are also a very affordable option, with being roughly $5 a dozen at most bakeries. For 150 doughnuts, that approximately costs $60-65 in total.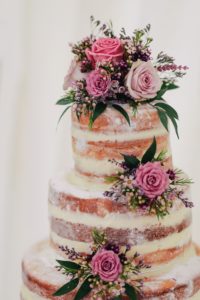 Dessert tables are loads of fun! Dessert tables give you all the options you could imagine! Candy bars, ice cream bars, brownie bars, a s' mores station … anything is possible. A quick check on Pinterest brought me to an article at The Washingtonian that provides even more creative ideas for dessert bars. The price of dessert bars varies drastically, but it could be an affordable option depending on your dessert bar theme.
In the end, remember this is your wedding! You know what you like. After walking down the aisle, saying 'I do,' 
smiling for hundreds of pictures, and dancing, what sweet treat do you want to eat? Do you want cake, cupcakes, pie, doughnuts, s' mores, or a handful of candy… the options are endless!